---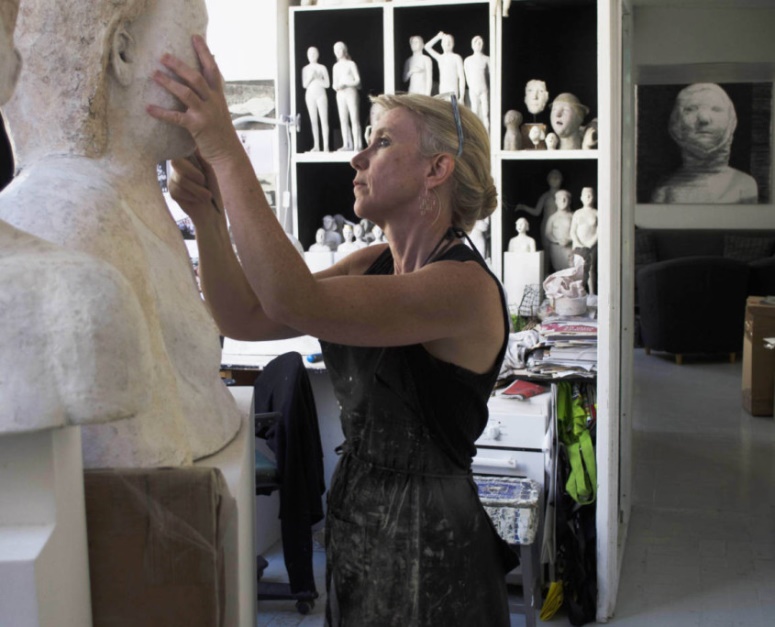 One day a visitor at one of my exhibitions came up to me and said, "These are the vestiges of a pacifist civilization." He hesitated, awaiting my approval or disagreement. I had never looked at things from that angle. In the end it is through the words of others that we really learn about ourselves.
Vestiges. Yes, my figures are memories or fragments of another age, bygone perhaps, though in reality an age that never existed. And pacifist, definitely. I am deeply and personally committed to the power of nonviolence. I grew up in a community devoted to the peaceful struggle for a fair and humane cause. All my life my upbringing has defined me, and I believe that now it's my turn to fight for certain values. With sculpture. In silence and without shouting. Maybe I am drawing on the poetry and affection inherent in my work to remind people that humanity cannot survive without hope.
My current work focuses on the wounded body, though I find that the theme's dramatic impact doesn't go far enough. The wound is not enough. My wounded figures heal themselves. They harden themselves against the violence from the outside world. I want to believe that human beings can rise from the ashes. In creating these bodies that have a life of their own, I also take comfort in the idea of giving life to figures that will outlive us.
I remember the main character in Scorsese's After Hours. In order to escape from an endless nightmare he is covered with plaster and then transformed into a sculpture. As if sculpture were the only way out. In my case, it is. Through sculpture I hint at what doesn't always need to be said, expressed, or demanded. I try to communicate what is fundamental, the beauty of human nature, but without treating it as myth.
Un jour, un visiteur de l'une de mes expositions s'est approché de moi et m'a dit: «Ce sont les vestiges d'une civilisation pacifiste.» Il hésita, attendant mon approbation ou mon désaccord. Je n'avais jamais regardé les choses sous cet angle. En fin de compte, c'est à travers les paroles des autres que nous apprenons vraiment sur nous-mêmes.

Vestiges. Oui, mes figures sont des souvenirs ou des fragments d'un autre âge, révolu peut-être, bien qu'en réalité un âge qui n'a jamais existé. Et pacifiste, définitivement. Je suis profondément et personnellement attaché au pouvoir de la non-violence. J'ai grandi dans une communauté consacrée à la lutte pacifique pour une cause juste et humaine. Toute ma vie, mon éducation m'a défini et je crois que maintenant c'est mon tour de me battre pour certaines valeurs. Avec sculpture. En silence et sans crier. Peut-être que je m'appuie sur la poésie et l'affection inhérentes à mon travail pour rappeler aux gens que l'humanité ne peut survivre sans espoir.

Mon travail actuel se concentre sur le corps blessé, même si je trouve que l'impact dramatique du thème ne va pas assez loin. La blessure n'est pas suffisante. Mes silhouettes blessées se guérissent. Ils se durcissent contre la violence du monde extérieur. Je veux croire que les êtres humains peuvent renaître de leurs cendres. En créant ces corps qui ont leur propre vie, je me console également dans l'idée de donner vie à des personnages qui nous survivront.

Je me souviens du personnage principal de Scorsese's After Hours. Afin d'échapper à un cauchemar sans fin, il est recouvert de plâtre puis transformé en sculpture. Comme si la sculpture était la seule issue. Dans mon cas, ça l'est. À travers la sculpture, je fais allusion à ce qui n'a pas toujours besoin d'être dit, exprimé ou exigé. J'essaie de communiquer ce qui est fondamental, la beauté de la nature humaine, mais sans la traiter comme un mythe.