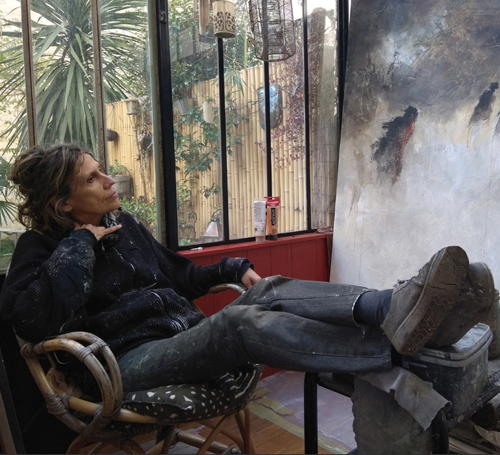 My work is an inner exploration that seeks to discover what our memory keeps, traces of life, memories, tiny cracks, chills, diffuse impressions in a universe of rhythms, contrasts, light and shadows.
Nothing is really revealed, it is up to everyone to find their own reading.
To bring out the most distant being in him. Getting lost to find the essential that constitutes us.
Stealthy, timeless or ephemeral images, discovered or sought after, perhaps imagined...
We sometimes guess marine elements, aerial or terrestrial, we touch the mineral.

The material is present, the graphic and plastic elements used become traces, shapes and reliefs…
Human traces. The earth and its strength. The earth and its fragility.
The human with his wanderings, his sufferings, his questions, his misunderstandings.
What becomes of our wounds... where will they protect themselves, in what memory... in what loneliness...
What we do with our lives.
What life does to us.
Version française
Mon travail est une exploration intérieure qui cherche à découvrir ce que notre mémoire garde, des traces de vie, des souvenirs, de minuscules fissures, des frissons, des impressions diffuses dans un univers de rythmes, de contrastes, de lumière et d'ombres.
Rien n'est vraiment révélé, c'est à chacun de trouver sa propre lecture.
Faire ressortir l'être le plus éloigné en lui. Se perdre pour retrouver l'essentiel qui nous constitue.
Images furtives, intemporelles ou éphémères, découvertes ou recherchées, peut-être imaginées ...
On devine parfois des éléments marins, aériens ou terrestres, on touche le minéral.

La matière est présente, les éléments graphiques et plastiques utilisés deviennent des traces, des formes et des reliefs…
Traces humaines. La terre et sa force. La terre et sa fragilité.
L'humain avec ses errances, ses souffrances, ses questions, ses malentendus.
Que deviennent nos blessures ... où vont-ils se protéger, dans quel souvenir ... dans quelle solitude ...
Ce que nous faisons de nos vies.
Ce que la vie nous fait.