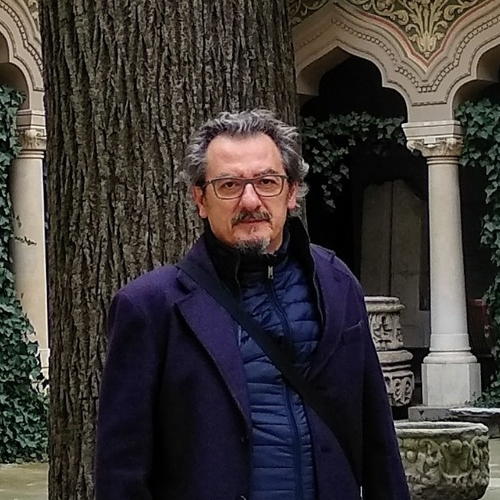 Stergios Stamos was born in Greece in 1964.
He is a graduate of the School of Fine Arts of Thessalonika (V. Dimitreas Workshop) 1984-1989.
Composition and drawing are dominant in his early artwork while colour is supplementary. There is complete absence of human figure while making clear references to dry land and the sea. He is influenced by the Thessalian plain and Mount Athos. He introduces upright landscapes, unlike the traditional horizontal rectangle ones.
In the 2000s he presents wall structures and installations using aluminium, neon light, fluorescent lamps and plexiglas incorporating writing in order to reanimate the image as well as refer to the archetypal form of communication. Still he does not abandon painting which he uses partially, just like speech, so as to express feelings and lure the viewer into a game where life converses with death and art embraces technology.
His most recent artworks Immigrations (2012), In my country (2014) and Geographies (2017) which consist of multilevel installations, photos and paintings, deal with refugees on a footslog while making a clear reference to Greece's financial crisis.
He has created theatre props and costumes.
Version française
Stergios Stamos est né en Grèce en 1964.

Il est diplômé de l'École des Beaux-Arts de Thessalonique (Atelier V. Dimitreas) 1984-1989.

La composition et le dessin dominent dans ses premières œuvres tandis que la couleur est complémentaire. Il y a absence totale de figure humaine tout en faisant clairement référence à la terre sèche et à la mer. Il est influencé par la plaine de Thessalie et le mont Athos. Il présente des paysages verticaux, contrairement aux traditionnels rectangles horizontaux.

Dans les années 2000, il présente des structures et des installations murales utilisant de l'aluminium, des néons, des lampes fluorescentes et du plexiglas incorporant l'écriture afin de réanimer l'image ainsi que de se référer à la forme archétypale de communication. Pourtant, il n'abandonne pas la peinture qu'il utilise partiellement, tout comme la parole, afin d'exprimer ses sentiments et d'attirer le spectateur dans un jeu où la vie converse avec la mort et l'art embrasse la technologie.

Ses œuvres les plus récentes Immigrations (2012), In my country (2014) et Geographies (2017), qui comprennent des installations à plusieurs niveaux, des photos et des peintures, traitent des réfugiés sur une liste de référence tout en faisant clairement référence à la crise financière de la Grèce.

Il a créé des accessoires et des costumes de théâtre.